Rubicon Express 3" suspension lift

I do not show all the steps to putting on the lift, as you have directions for that :-)
I wanted to show how I was able to keep the good handling after lifting a TJ, so here it is:

What the parts looked like when new

:-)


Don't get me started about the bar-pins not being there(extra hours and bloody knuckles...
Here is a pic of the shock bushing I almost destroyed, the '00 TJ heavy duty shocks have the rubber bushing *molded* to the bar pin (my 99 with standard shocks did not, either way it was a pain... (RE finally sent the bar pins when I orderd control arms and adjustable front track bar)
Here is what I used to measure angles, the "Johnson magnetic angle locator"
(available from Home Depot for about 10 bucks... )
All measurements, before and after are given at the bottom of this page.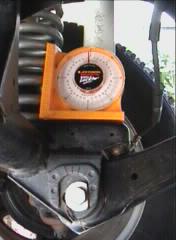 The above pic shows what turned out to be the most crucial measurement/adjustment, the caster.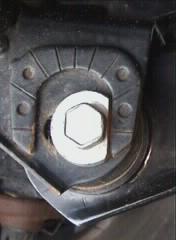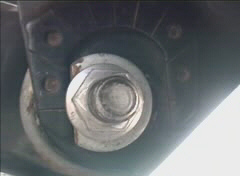 I am told that 97-98 TJ's come with eccentric adjustment bolts(consisting of a bolt with an off-center head and a keyed washer with the same off-center), but I don't have the luxury of a parts department being open on my days off, and I heard they were expensive... a die-grinder did the trick of giving me the ability to adjust, but a ratchet style cargo strap was used to actually pull the axle forward. Full adjustment brought the caster right back to factory spec :-)
(I have the adjustable lower arms from RE, but seeing how these work out, I may not need a $229.00 solution :-)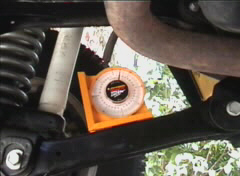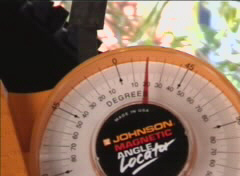 Lower front control arm angle. I initially used a straight-edge from bolt to bolt, but this way was easier and had the same result if you kept the tool off the small hump(not visible) on the top of the control arm.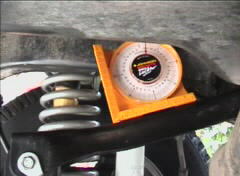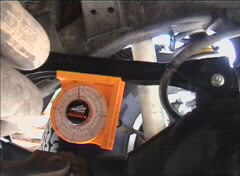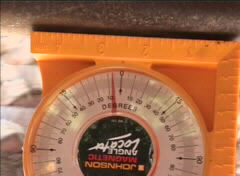 Measuring the upper front control arm angle was a little trcky due to the lack of clearance, especially beforer the lift. I found that the magnet was plenty strong to hold on the the metal edge on the bottom of the arm.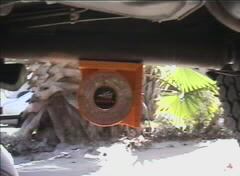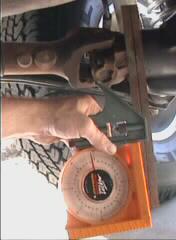 Front driveshaft and pinion angles were measured, but with the length of the driveshaft, was not much of a concern.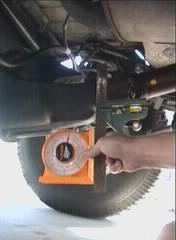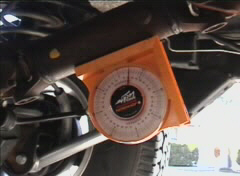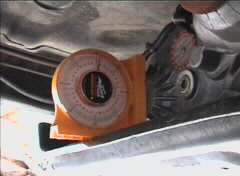 Rear pinion, driveshaft, and transfer case angle measurements.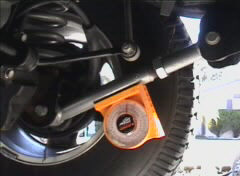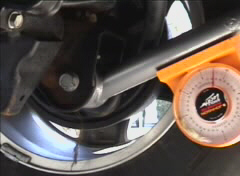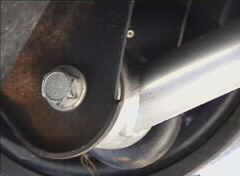 Rear Lower control arm angle, note that the measurement is not quite accurate due to the offseet of the control arm towards the bottom of the rear pivot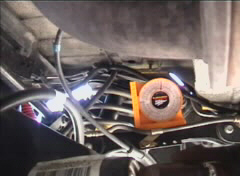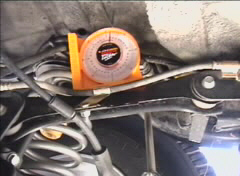 Rear upper control ame angle
control arm info
Front lower
Front upper
Rear lower
Rear upper

control arm length:
after:

15.875 in
-
15.125 in
-
15.875 in
16.125(new arms)
13.250 in
-

effective length(1)
after:

12.750 in
13.000
13.4375
-

angle(2)
after:

-3.5
-17.0
+1.5
-14.5
-6.5
-20.0
+4.0
-13.0
other stock specs
legend
stock spec
spec after lifting ( - indicates no change)
spec after lifting and then corrections were made ( - indicates no change)
caster(3)
4.5 degrees (L&R), measured with the angle finder on the flat part of the lower shock mount area
2.0 degrees (ouch, that is why the green '99 was scary... oooooops!)
4.5 degrees (front lower brackets
toe-in
49.875" (used tape measure on inside of rim lip in the very front)
49.500"
49.875" (2 turns exactly, turning the front side down to extend tie rod)
also, steering wheel was now 90 degrees to the left, so drag link was 6 turns (front down).
pinion angle
-8
-13
-8.5(4) (eventually -10 after tuning)
shaft angle
-8.5
-16.5
-20 (eventually -18 after tuning)
t-case angle
-6
-8 (change due to t-case drop)
-
front height
33.125
37.125 (wow, 4 inches from a 3 inch lift!) tire clearance is 7.50 inches to fender lip.
-
rear height
34.5
38.625 (4.125 inches of lift) tire clearance is 8.750 to fender lip.
-
Notes
(1) Effective length used because front lowers are adjustable on the axle, but arm length does not change. The newer TJ's do NOT have the trick adjustable bolt up front, so I ground off one side of the head and the washer to allow for adjustment see pics).
(2) Angles for control arms were taken either from a straightedge contacting the bolt at each end, or on a very flat part of the arm.
(3) Caster is most likely not the *real* caster, but is a reference to help bring the geometry back to spec.
(4) Trig said that if I wanted to bring the pinion angle down 5 degrees, and the distance between the control arm mounting points(on the axle) was 8 ", then the lower arm would have to be 8(tangent(5deg)) inches = .7" this would have meant a 16.625" lower arm, this is why I ordered the adjustable lower arms. This turned out to be too much, and actually only .250 inches gives the best results, and RE non-adjustable arms are .250" long.... hmmmm learn form me, save $50/pair!

2/7/2000 With the stock rear lower control arms, I noticed some vibration on acceleration, a fairly fast regular vibration varying with speed.
2/8/2000 I first put the control arms at 16.375 because 16.625 seemed a lot I was right, and the vibration was worse, but different, I deducted that it may have been coming from the slip yoke, so I shortened the arms by a turn.
2/9/2000 Most of the vibration gone, I shortened the arms 1 additional turn. (a slip yoke eliminator is the final answer, but not in my plans yet)
The End (for now)